Sampler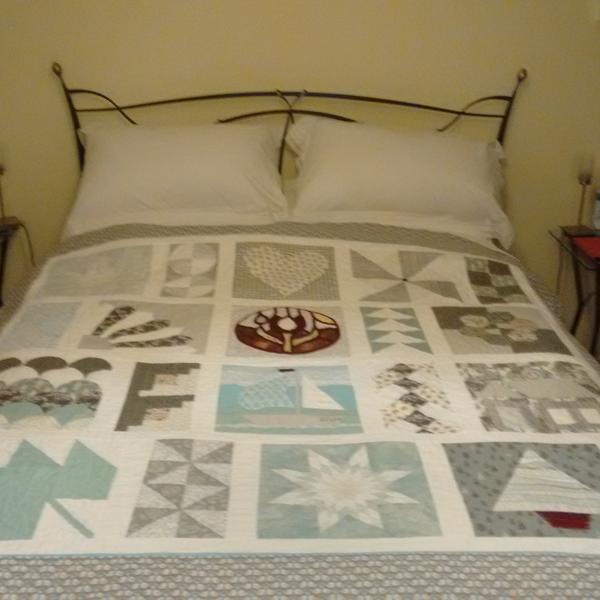 Your sampler quilt could be a throw or a wall hanging. Learn an amazing amount of patterns and techniques each quilt turns out so so differently showing how individual quilting can be.
Tutor: Kate Ranson
Date : Tuesday 20th April
Time: 10am -4pm
21 sessions   ( £25.00 per session)
Tea/coffee,biscuits cake available all day.
Please bring a packed lunch.
All workshops until further notice are limited to 5 people plus tutor. We have 2 places left!
Design Your Own Quilt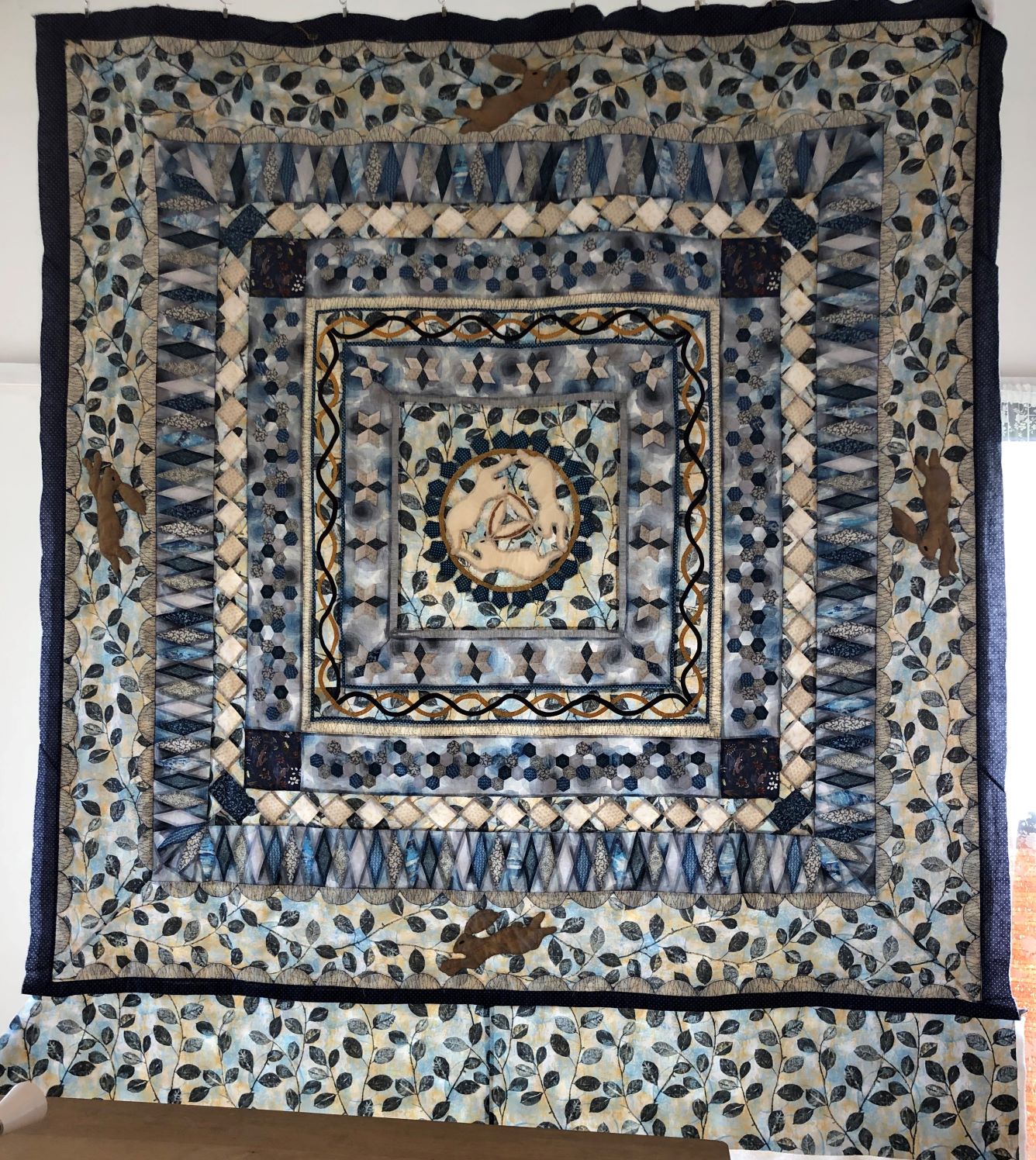 Thursday 22nd April
Kate will be here to help you design your quilt from scratch bring your rough ideas and learn how to layout, draw your design calculate sizes and fabric needed.
10 sessions   FULL please email if you are interested to be placed on our waiting list.
Tutor: Kate Ranson
Time: 10am – 4pm
Cost:10 session @ £15.00 per session
All workshops until further notice are limited to 5 people plus tutor. FULL
Willow Workshop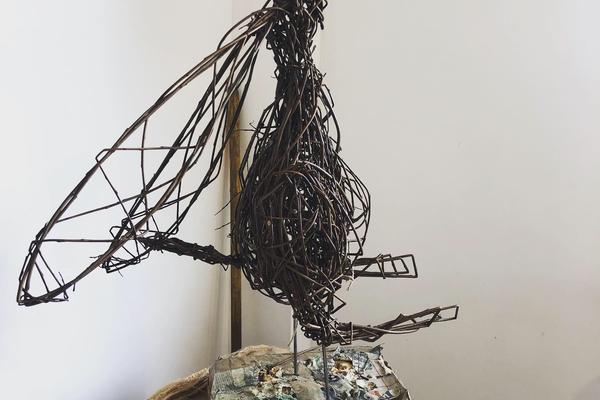 2021 dates to be confirmed.  Please email to be placed on our waiting list.
Time: 10am – 4pm Cost:
 Cost: £80.00  Hare
Tea and coffee provided
josadlerwillowartist.bigcartel.com
All workshops are limited to 5 people plus tutor until further notice.
Bird House Craft Storage Box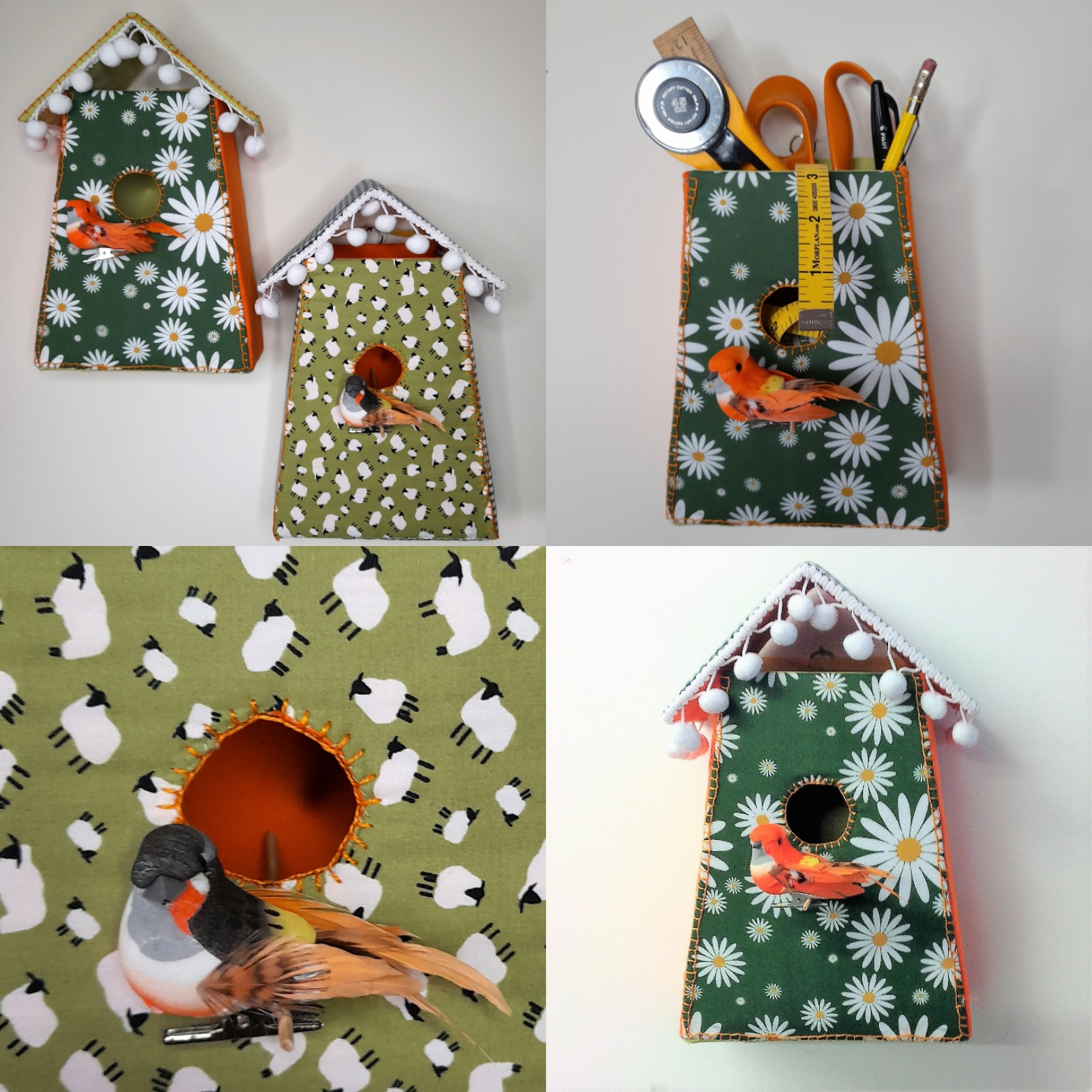 Tutor: Gary Mills
Date:  25th May 2021
 Time: 10am -4pm
Cost per session: £40.00 plus £5.00 materials
Class numbers will be limited to 5.
Please email if you would like to register.
Introduction/Back Story
This cute and colourful Bird House is just the perfect project to brighten up any wall or desk. These bird houses make great decorations, but also serve as an especially useful storage container on your hobbies table or shelf. A great place to store all those bits and pieces we have laying around. You will be guided by experienced tutor Gary Mills through each step to complete the project. Once you have mastered your first you will be able to take away the pattern to create many more.
What You Will Learn in this Workshop:
In this workshop you will be cutting out, assembly of the panels and stitching by machine and hand finishing.
Skill Level for this Online Workshop:
eg Beginner / Intermediate / Advanced: 
Gary has many years' experience as a professional practitioner and teacher of textiles; his workshops are so enjoyable, fun, and very well organised with his clear and patient guidance. This workshop is suitable for all; if you are a beginner this is a great project to learn and understand the processes of cutting out, machine sewing and assembling. For those more experienced and advanced you can further hone your skills by working on improved accuracy and artistic ability to achieve a first-class professional finish
Fabric & Material requirements for this Workshop: –
½ metre Interlining wadding / Bumph
A selection of fabrics in printed cotton for panels and roof (the bird box in total would take ½ metre but as there are several panels you can mix and match these)
½ metre of decorative edging for roof (see example)
Good quality machine threads to match your fabric choices.
Equipment requirements for this Workshop: –
a general sewing box including fabric scissors and embroidery scissors. Needles and pins. A basic sewing machine and a selection of good quality machine
Mindful Stitch – Make a Cloth Journal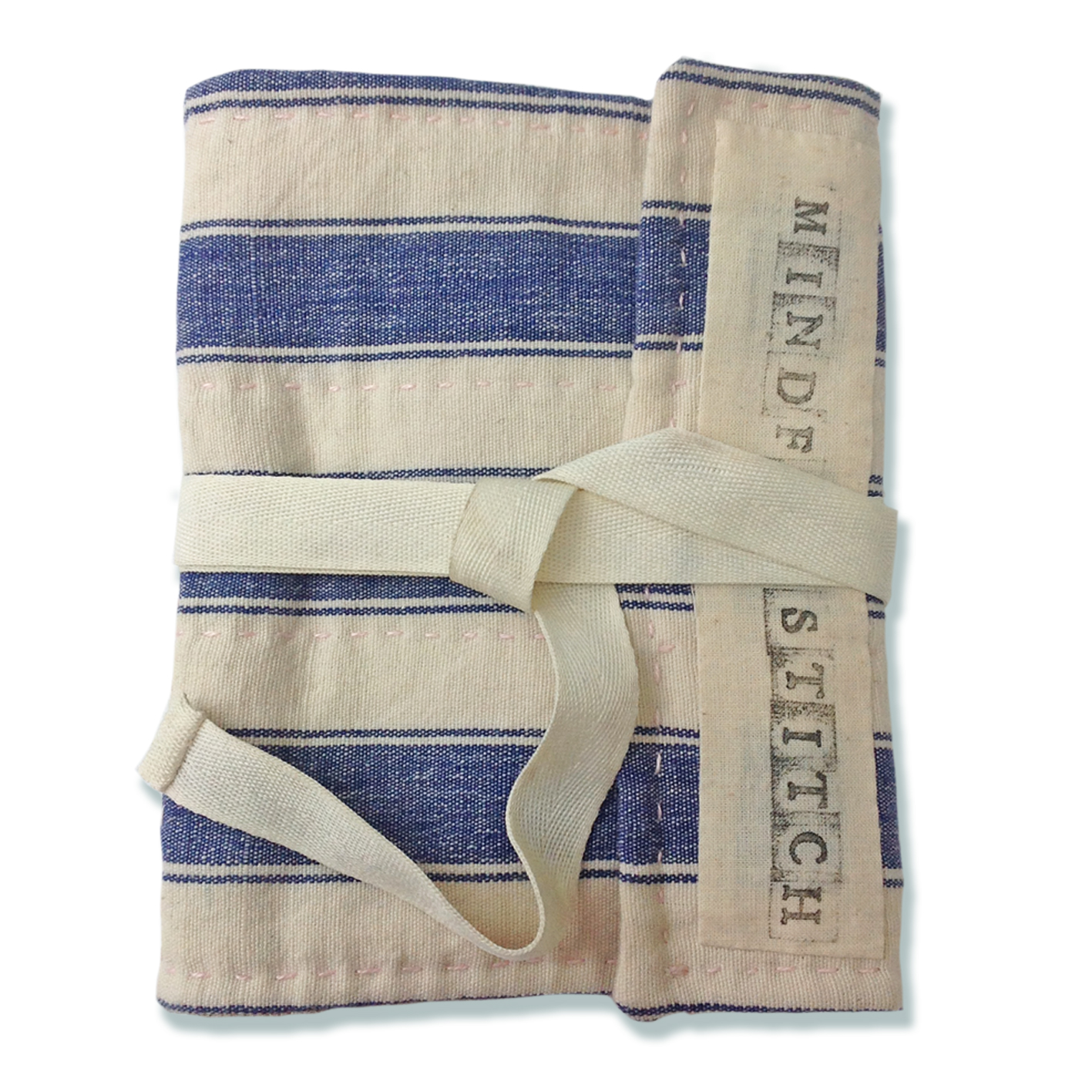 Tutor:Gary Mills 
Date:8th June 2021 
Time: 10am – 4pm
Tutor Cost: £40.00 plus £5.00 for materials
Introduction/Back Story
Designer and textiles teacher Gary Mills has created this beautiful and thoughtful Cloth Journal for you to practice upon its pages the lovely past time of mindful stitching.
Within this workshop you will not only practically make this beautiful cloth journal guided by our experienced teacher Gary, but also discover that hand stitch is becoming the new meditative and relaxing pastime to calm our minds in a world at times which can seem unsettling and stressful.
You may ask, "what is mindful stitch?"
It is amazing how much pleasure can be had from slowing down, picking up a needle and thread and simply sewing, be that a repetitive decorative embroidery stitch, or needle turned appliqued of found work embellished to a cloth page within your journal. This practice has connections to sustainability, simplicity, preserving memories and reflection.
"Mindful Stitch allows our mind and body to work in harmony and express our inner feelings. It is a slow, repetitive process, which helps to promote calmness and inner peace" Reference: thegraystone.co.uk
Once you have made your Cloth Journal, this is just the beginning of your mindful practice journey to discover enjoyable skills such as scrapbooking, stitched doodles and simple applique.
The Journal now becomes your own unique narrative of work, reflections or even a diary of textile entries; the pages do not have to have any theme at all; but then again, they might do so……its is entirely up to you and for the best benefit do not over plan the outcome or the end result. Let your journal evolve.
Best of all, this project is a scrap buster and encourages you to reuse repurpose textiles.
What You Will Learn in this Workshop: To begin you will be introduced to the project by Gary who will show you examples of his own mindful journal to give you inspiration and understanding of the possibilities available. Next Gary will guide you through the making of the Cloth Journal, learning how to cut and assemble the outer cover using machine and hand stitches, with consideration to decoration and even words to add to the front of the cover if you wish. Next you will be guided on how to make pages and to begin inserting them with hand stitches.
As the journal begins to take shape Gary will further cover textile and hand stitch practices which you can carry out to then create your very own unique Mindful Journal. Everyone will start at least one stitches and worked entry to kick start their Journals.
Workshop number will be limited to 5 please email if you would like to register.
01823 240041
Further Julia dates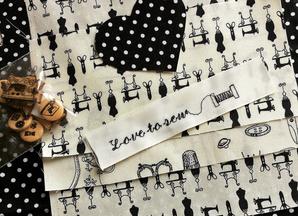 Julia Langley of SewingBox Somerset
Time: 10am – 3pm
Workshop Titles yet to be confirmed.
Dates:
May
7th,14th,15th,21st,28th,29th
June
4th,5th,11th,12th,18th,25th
19th  June – Bodice fitting for home sewist.
July
2nd,3rd,9th,10th,16th,17th,23rd,30th
August
6th,13th,20th,27th
Please book directly with Julia
facebook: Sewing Box Somerset
web: sewingboxsomerset.co.uk
Time: 10am -3pm
Cost: £35
All workshops until further notice are limited to 5 people plus tutor. 
Getting Started with Eco Dye and Print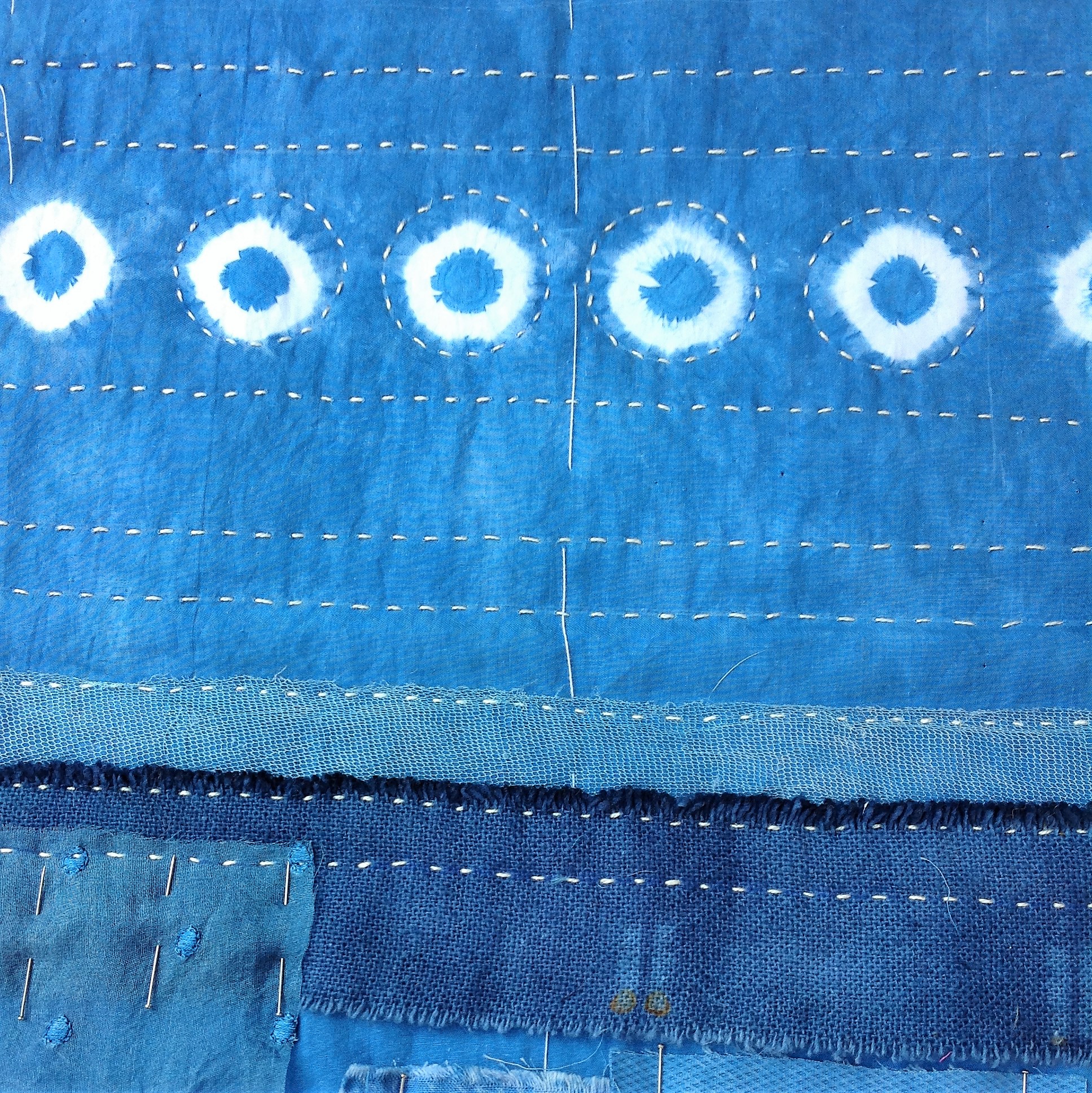 Day 1: 4pm -8pm    20th July
Day 2 10am -4pm    21st July
Day 3 10am -2pm    22nd July
Gary Mills – Getting Started with Eco Dye and Print techniques Includes Indigo with Shibori dying, Silk Eco Printing, Natural Dye Baths with mordants and Rust Printing.
Workshop Charge: £95.00 plus materials cost £25.00.
A fabric bundle of varying fabrics suitable for dying in the workshop to includes silk and hemmed silk scarf, cotton, and linen; all the dye and mordant ingredients for the workshop (please note at the end of the workshop session you can experiment with the left-over dyes and dye your own natural fabrics, but you will need to make sure they a fully washed and have no fabric conditioner finishes)
Introduction/Back Story
This workshop is in the ideal setting of the Studio and Grounds at 'Come to Quilt', in the Quantock Hills of Somerset.  Mixed-media textile artist and designer Gary Mills, introduces you to the exciting and ancient natural dye and print processes with using organic materials to produce beautiful colours and shades on natural fabrics.
Gary has over several years experimented, researched, and taught varying processes using organic material which has led to this comprehensive workshop which is suitable for those interested in exploring natural dye methods and ways of transferring plant pigments onto cloth and fibres.
Some of the methods can take time to develop over 24 hours and therefore this three-day workshop allows time for processes to cure, but most importantly the precious time and space for those attending to discuss, experiment and play with ideas generated by many of the following processes which will be covered in this workshop.
Over the three days you will explore organic and foraged ingredients for dying cloth in 'Natural dye baths' to see how exciting the natural colours and variances which can be derived from simple collected vegetation, vegetables, peelings, spices and beverages along with various 'mordants' and their uses in the natural dying process.
You will use 'Rust Dying' to create pattern and a ghost image onto fabrics. Along with supplied rusting objects to use, it would be encouraged to bring along you own rusting found objects to produce these interesting patterns and images on cloth. This process is loads of fun and most surprisingly the detail captured is amazing. Once developed and set they can be stitched to create some beautiful textiles.
'Silk Eco Printing', is becoming extremely popular to impart organic foliage images onto silk; in this section of the workshop, you will be given a white silk scarf to use to impart your designs with some beautiful results.
An 'Inigo Dye Bath' will be set up for you to explore Shibori methods and dip dying. You will learn to set up the natural indigo dye bath and explore all the possibilities which can be achieved with Indigo.
This part of the workshop includes, the indigo dye baths, materials to use in the resist method, such as clamping, binding, and stitching. The activity needs warmth (hence the summer), oxygen (plenty of fresh air) to develop the beautiful blue indigo colour.
Fabrics such as natural cotton yarns dye the best, but this could include using pre-loved fabrics such as damask tablecloths, pieces of vintage lace, muslins and cottons napkins and handkerchiefs.  All fabrics must be cotton or linen for best results, although silks do take colour but can be unpredictable but worth a try if you have any scraps to use up; wool does not work. All fabrics take dye differently and you will be dying to stitch into them (once they are dry!).
Examples of Shibori sampling
Stitch
Placement
Fold and clamp
Other possibilities (book / paper)
Dip Dye
Gary has a bountiful range of textile ideas for projects which can be discussed and developed over these three days; proposed is a simple pieced and Boro-stitched cloth Journal cover and mindfully stitched pages of hand embroidered doodles to work upon in the evenings. It will be encouraged to stitch, embellish and piece together dried and pressed outcomes to further expand on your experience from this workshop.
Skill Level for this Online Workshop:
Beginner / Intermediate
Measuring, textile dying, fabric identification, recording, assembling and some simple sewing with hand stitches.
Equipment requirements for this Workshop: –
A general sewing work box with the following: Fabric Shears, paper scissors, small needle work scissors, Dress making pins, needles for stitch.
Pencil & fabric maker pen.
Bring a plastic bowl or washing up bowl and old towels.
Apron and suitable clothing and footwear must be worn as you will be working with hot fluids and dye stuffs that will mark clothing and spill and splash. Rubber gloves (particularly important unless you want blue fingernails!)
A journal or ring-binder file with paper & pen for taking notes and recording your findings as you experiment and explore the dye processes.
Sewing needles and strong thread such as light-coloured button thread
Optional: A simple sewing machine for making your journal cover, although hand stitching can be used. Bring some neutral-coloured machine threads.
Wrokshops places are limited.
Please email us on [email protected] to reserve your place.
01823 240041
Hills and Valleys of Exmoor Captured in Stitch – Landscape course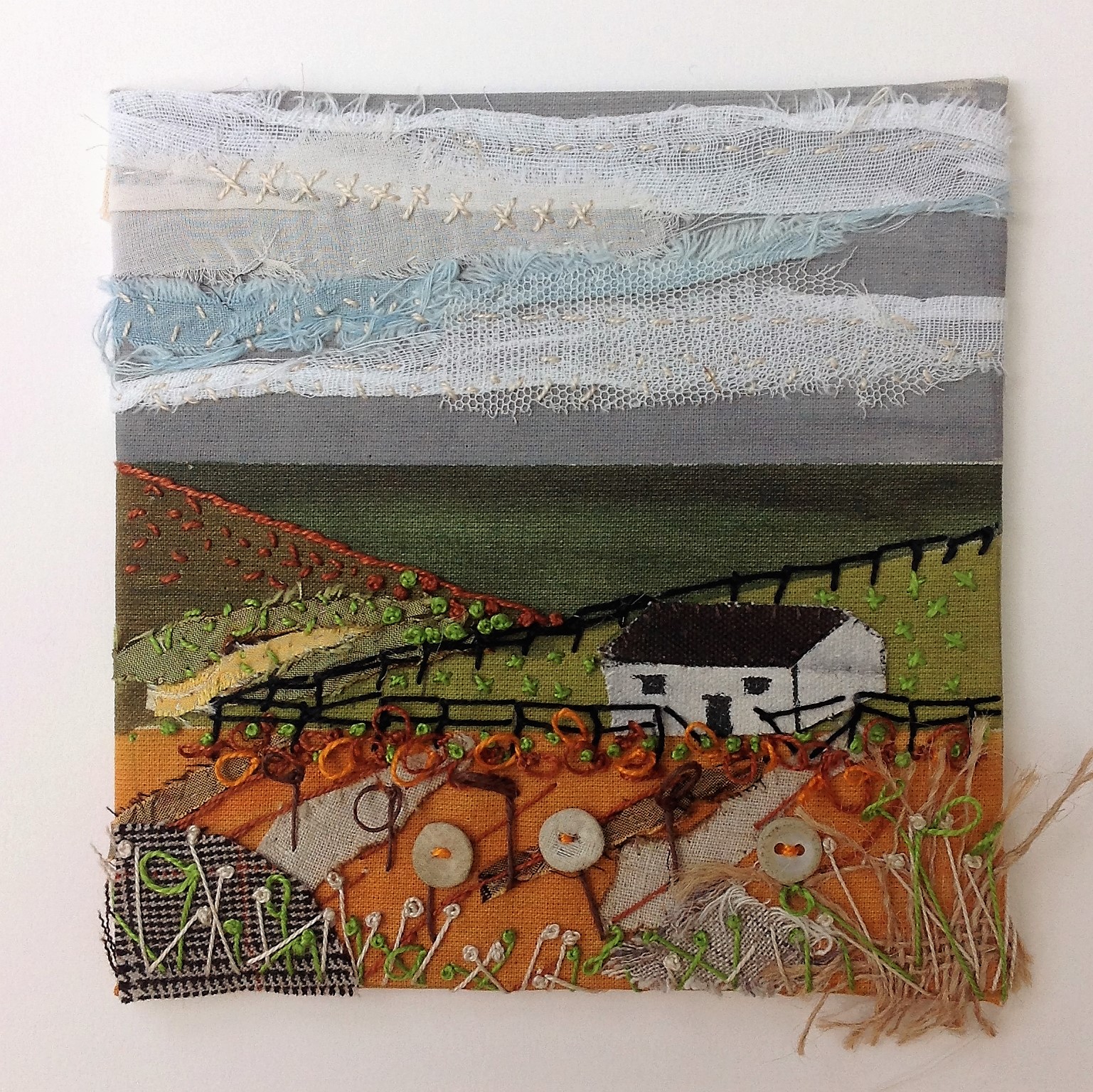 Title: Hills and Valleys of Exmoor Captured in Stitch – Landscape course
Tutor: Gary Mills
Date: 14th July 2021
Time: 10am -4pm
Cost: £40.00 plus £5.00 for materials
Introduction/Back Story
An Exmoor Inspired painted and hand stitched landscape captured in textiles. Mixed media textile designer Gary Mills will guide you through the processes of painting the background, adding the details in applique and hand stitching to capture your very own part of Exmoor in textiles.
What You Will Learn in this Workshop: –
Techniques covered in this workshop are using masked-off hand painted sections on calico, applique strips of found and dyed fabrics finished with contemporary hand embroidery to add details.
Skill Level for this Online Workshop:
eg Beginner / Intermediate / Advanced: –
Would suit any level as an experienced teacher Gary will guide those less confident but willing to practice new skills through the workshop to achieve something you will be proud of.
Fabric & Material requirements for this Workshop: –
All canvas, paints and scraps of fabric are provided in the cost of materials for this workshop.
Equipment requirements for this Workshop: –
Those attending need to bring a general needlework / sewing box to include needles, scissors, and pins.
A fabric marker / pen will be useful.
A selection of good quality embroidery threads (DCM or Pearle) colours browns, orange, mustard, greens and black.
Fine hand sewing threads in white / cream and a natural beige and brown colours to needle stitch down your appliqué pieces.
Workshop number will be limited. Please email to register.
01823 240041